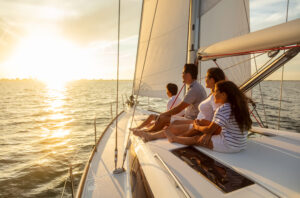 The summer season is in full swing, and it's time to embrace the warm weather, outdoor adventures, and quality time with family and friends. As you dust off your summer toys, such as boats and ATVs, it's important to consider the role of insurance in safeguarding your fun-filled activities. While insurance requirements may vary depending on your location and intended use, having coverage for your toys can offer peace of mind and financial protection in case of accidents or unexpected events. Let's explore the importance of insurance for your summer toys and the benefits it provides.
Insurance for Boats:
When it comes to boat insurance, regulations differ from state to state and are influenced by factors like boat usage and horsepower. In most states, boat insurance is not mandatory, except for boats with engines of 50 horsepower or more. However, certain circumstances may require coverage, such as renting a slip from a marina or financing your boat. To ensure you have the necessary coverage, it's essential to consult with your local marina and your bank. Even if not legally required, boat insurance offers extensive protection against various risks, including collisions, theft, vandalism, fire, sinking, and storm damage. Additionally, liability coverage can safeguard you in case you cause damage to someone else's property or encounter an uninsured boater.
Insurance for ATVs:
Similar to boats, insurance requirements for ATVs vary by state and depend on where you plan to ride. While ATVs and UTVs are not typically street-legal, if you intend to ride on state-owned land or parks, liability coverage is often necessary. If you solely ride on your own or leased land, insurance may not be mandatory, but it's strongly advisable. Without insurance, you would be personally responsible for any damages or injuries resulting from an accident. Considering the potential risks involved in ATV riding, having coverage, such as collision insurance for repairs or replacement after an accident, or uninsured/underinsured coverage for protection against uninsured riders, can be highly beneficial. Additionally, you can explore options to cover optional equipment like loading ramps and safety gear.
Benefits of Toy Insurance:
While it may seem tempting to forgo insurance for your summer toys, it's important to recognize the value it provides. Accidents can happen unexpectedly, and having insurance ensures you're financially protected when the unexpected occurs. Boat insurance typically offers comprehensive "all-risk" coverage, encompassing a wide range of incidents. Similarly, ATV insurance can provide coverage for collisions, theft, and other perils. Furthermore, liability coverage is crucial in safeguarding you against potential damage to others' property or injuries caused by accidents. By securing toy insurance, you can enjoy your summer activities with peace of mind, knowing that you have the necessary protection in place.
With that said: 
As you prepare for a summer filled with outdoor adventures and quality time with loved ones, don't overlook the importance of insurance for your summer toys. While legal requirements may vary, having coverage for your boats and ATVs offers financial protection and peace of mind. Whether it's comprehensive coverage against various risks or liability protection for potential damages, insurance ensures you can enjoy a carefree summer without worrying about the potential complications that accidents can bring. Take the necessary steps to explore your insurance options and choose a policy that suits your needs, allowing you to fully embrace the joys of summer with your cherished toys.